Joined

Aug 12, 2022
Threads
Messages
Reaction score

655
Location
Car(s)

Audi SQ7
I have been building this up slowly, and testing a lot inbetween modifications, but I'm happy to say that I think I've finished with my 'Stage 1' mods.
I had no pre-planned order to approach this, but just wanted to change one thing at a time that I felt the car needed. In order, this was:
* Coilovers with 1" drop, by MCA Suspension (MCA Reds)
* Custom 3.5" catback exhaust, with Varex valve, by Rob Bliss Exhausts
* Z1 carbon intakes by Z1 Motorsport
* Custom 2" downpipes with 200 cell cats and 2x hotdog resonators by Rob Bliss Exhausts
* Varex Smartbox valve controller
* Tune by ECUTek and AK Racing
The team at AK Racing did a baseline dyno when the car was effectively stock - before I even did the catback exhaust. Then we basically dyno'd it after adding each of the above, again just to baseline without tune.
All of the below are measured at the wheels, and on Australian 98 octane pump fuel (equivalent to US 93 I think?)
The original baseline numbers were 275kw/458nm.
The final number for this 'stage 1' were: 320kw/561nm (429.7hp / 414.3ftlb)
Attached a clean dyno for reference, but I also have a chart that compares the runs at 3 different stages. I'll get this up tomorrow.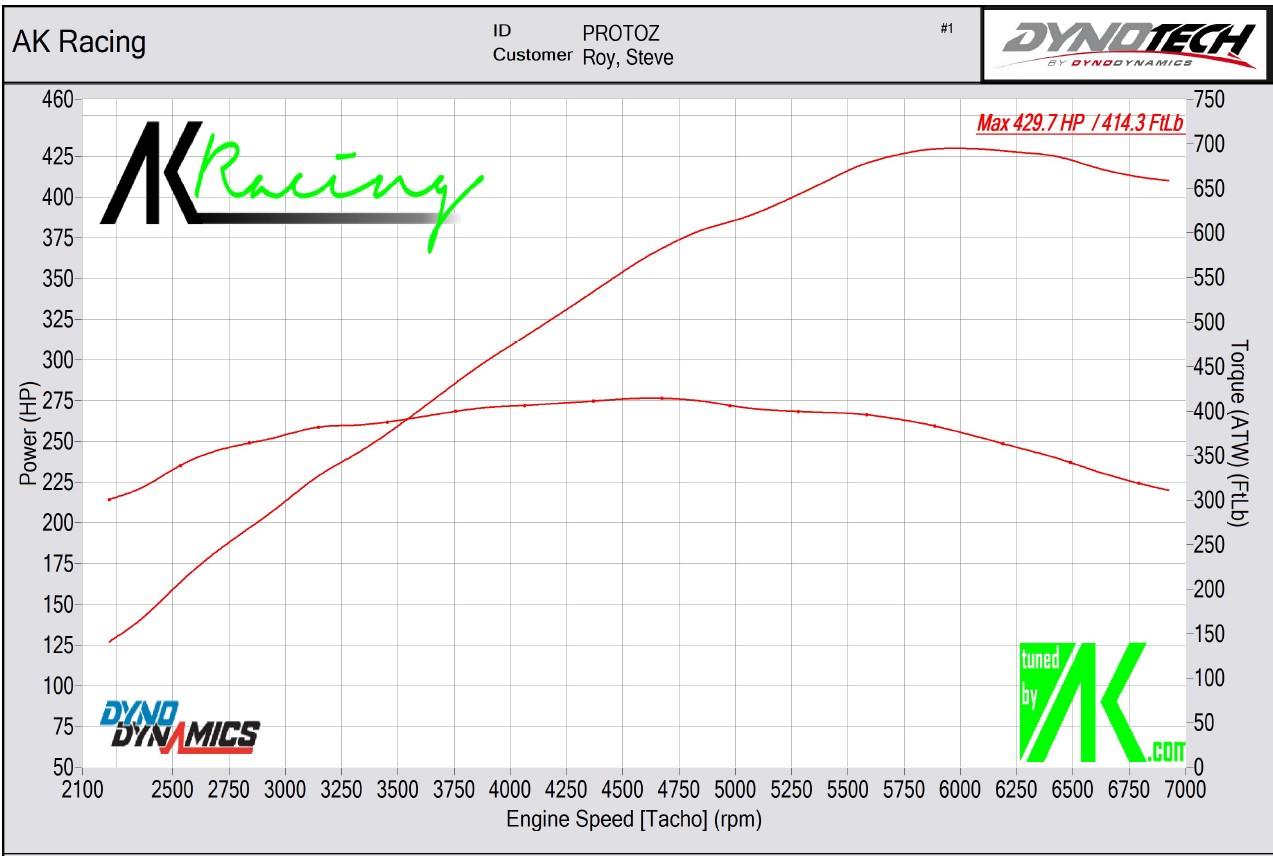 I've also thrown up a couple of videos in case anyone is interested. I absolutely love the way this exhaust sounds. Threw on a crackle tune for fun too
One thing we noticed is that the first pull was always the best. consistently lost 3-5kw per run. Definitely an issue with heat soak. I've started working with local fabricators to make up intercoolers, heat exchanger, oil cooler and radiator. I'll get these done, dyno again, then swap to E85 to round out my 'stage 2' in the next few months.