First Name

Bob
Joined

Dec 10, 2020
Threads
Messages
Reaction score

229
Location
Car(s)

1973 Datsun 240Z, 1993 Nissan 300ZX
Occupation

gainfully unemployed.
DAY 1: KC to Colorado
Now on our way from Kansas City to N. California in our new Z which we purchased 50 years to the day after I bought the 1973 240Z. (which we still own)
Took some long distance trips in the 240Z and now driving US Highway 50 In the new Z No Interstates!
First stop: the Tall Grass Prairie National Preserve in
Kansas.
short access road to one of the viewpoints: (Not US Highway 50!)
Planned route.
(map of long trips in the 240Z)
The 240Z used on these long trips (pix from the 2019 JCCS in Long Beach)
After the Tall Grass Prairie National Preserve, drove to the Cosmosphere space museum in Hutchinson, Kansas.
A space museum in Hutchinson, Kansas? Thought we would spend 30 minutes there, but stayed for 3 hours and it was not nearly enough. A world class museum with artifacts like Gus Grissom's Mercury capsule, restored by experts at the museum. The Apollo 13 Command Module, also restored there. An SR71 Blackbird spy plane hanging from the ceiling of the lobby. Many exhibits and unique items for the early USSR space program. No photo of the new Z there, had to park too far away.
After the Cosmosphere, drove to Boot Hill in Dodge City for a photo op: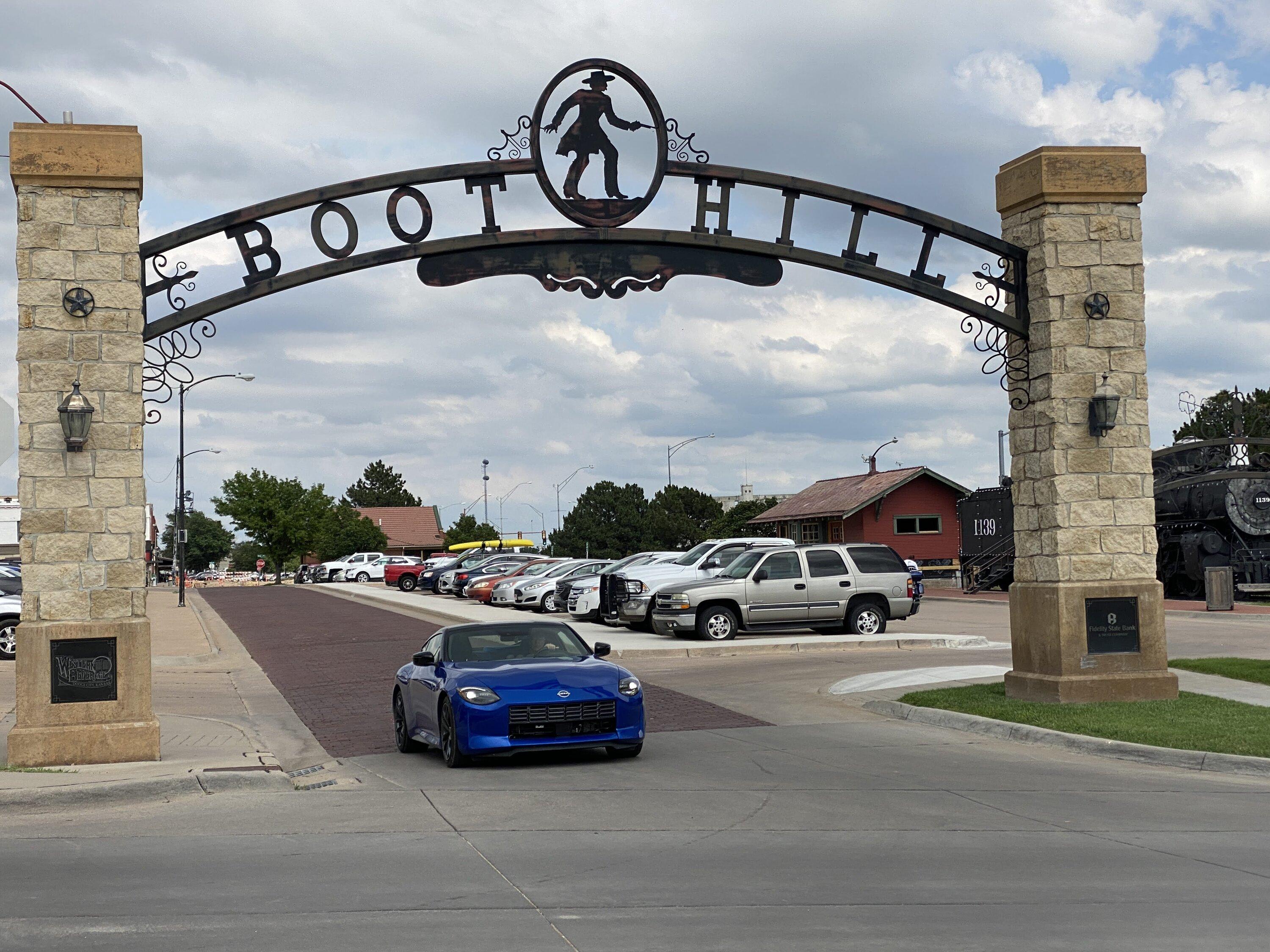 Highways on the Prairie are wide open, straight, and little traffic. Passing a truck using most of the 400 HP of the Z (unnecessarily…
is like a catapult shot on an aircraft carrier!
Headed to Lamar, Colorado for the first night's stop. But then ran into an intense midwestern thunderstorm. 40 minutes of torrential rain, dark, thunder, lightening, flooded roads. Fortunately no hail, my biggest concern. No turning required on the wet and flooding road was also helpful.
1st Day stats: 488 Miles, 30.2 mpg average mpg.
Day 2 in future post.
Last edited: