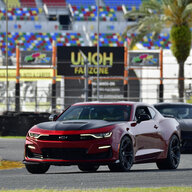 First Name

Bones
Joined

Aug 19, 2021
Threads
Messages
Reaction score

28
Location
Car(s)

2021 Camaro 1SS 1LE
Completely wrong. I've had a 200sx turbo for nearly 25 years and never floored it on public roads. That's dangerous, irresponsible, childish, and done by the moronically stupid.

Everyone caught doing that should not only have their licence permanently removed, but their car also instantly confiscated and crushed.

A few years ago some moron doing just that to show off crashed off the road and only narrowly missed a group of school girls waiting at a bus stop. Another moron in a night street race meet caused a girl to need to have her legs amputated after crashing into her.

If you want to drive fast, take it to a track where it belongs (and where anyone in a standard Z will get their ass handed to them on a plate by all those driving the more expensive faster cars).
That's a weak troll. There's a time and place for everything and to say you've never gone WOT on a public road is hilarious. So going WOT = street racing to you...lol ok got it. I also like that you equate more expensive, faster cars to getting your ass handed to you when it's actually the driver and not the car that makes the biggest difference on track. Normally, one of the first lessons is getting schooled by someone with half the HP you have and it's great!
Carry on!
Last edited: